Some of the dishes I've cooked include:
Somen with peanut/soy/sesame sauce with sweet peppers and cucumbers
Rice porridge in shiitake/porcini mushroom stock, with shiitake mushrooms, pickled chili bamboo shoots, and fried shallots
Banh mi torta with cha lua chay, mushroom cashew pate, avocado, pickled carrots, pickled sweet peppers, and sriracha allioli
Chocolate coconut milk pudding with espresso powder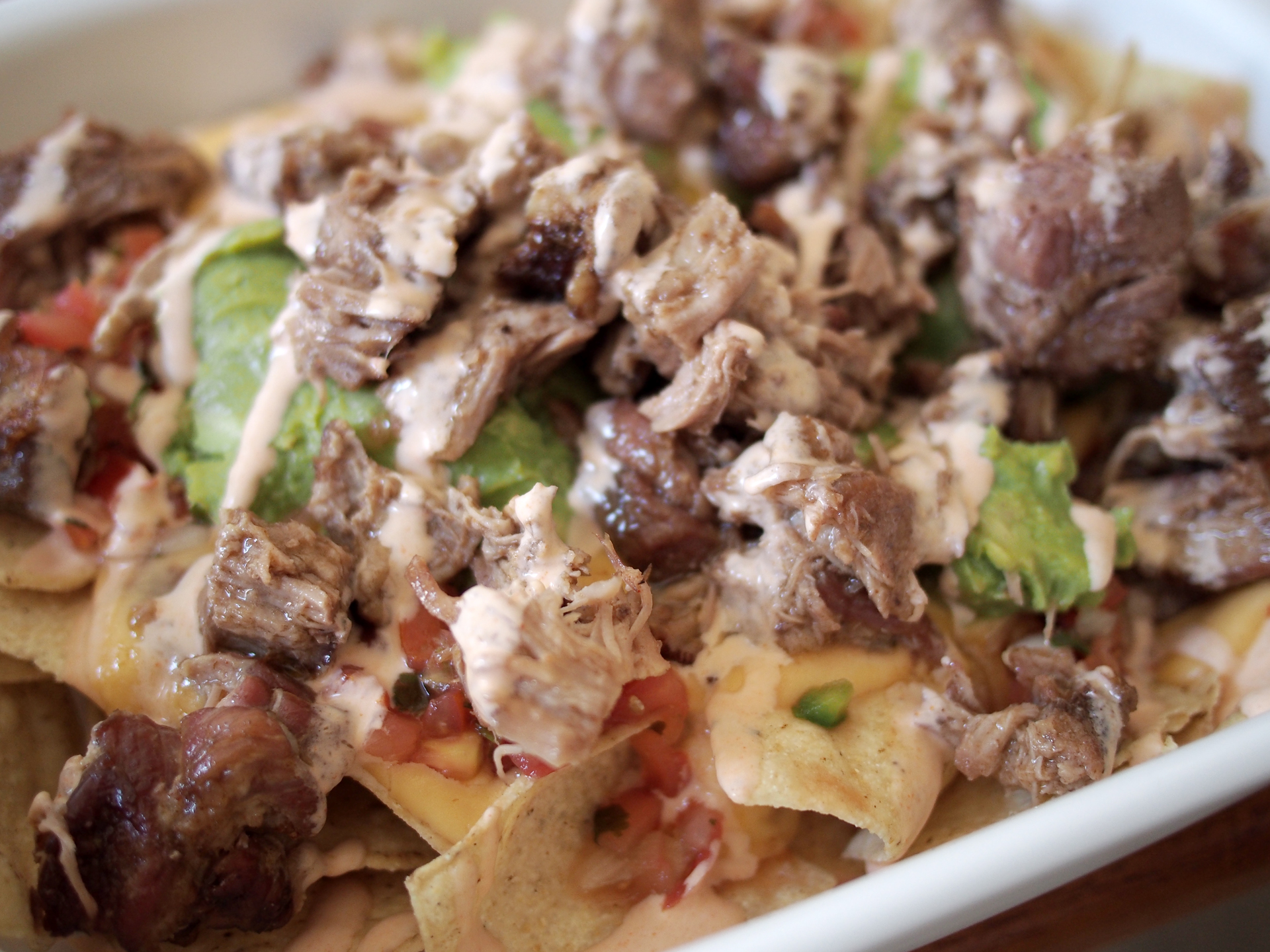 Nachos with cheddar-pepper jack sauce, Thai roast chili jam, guacamole, pico de gallo, and pulled roast pork
Panang Curry Pizza with onions and red bell peppers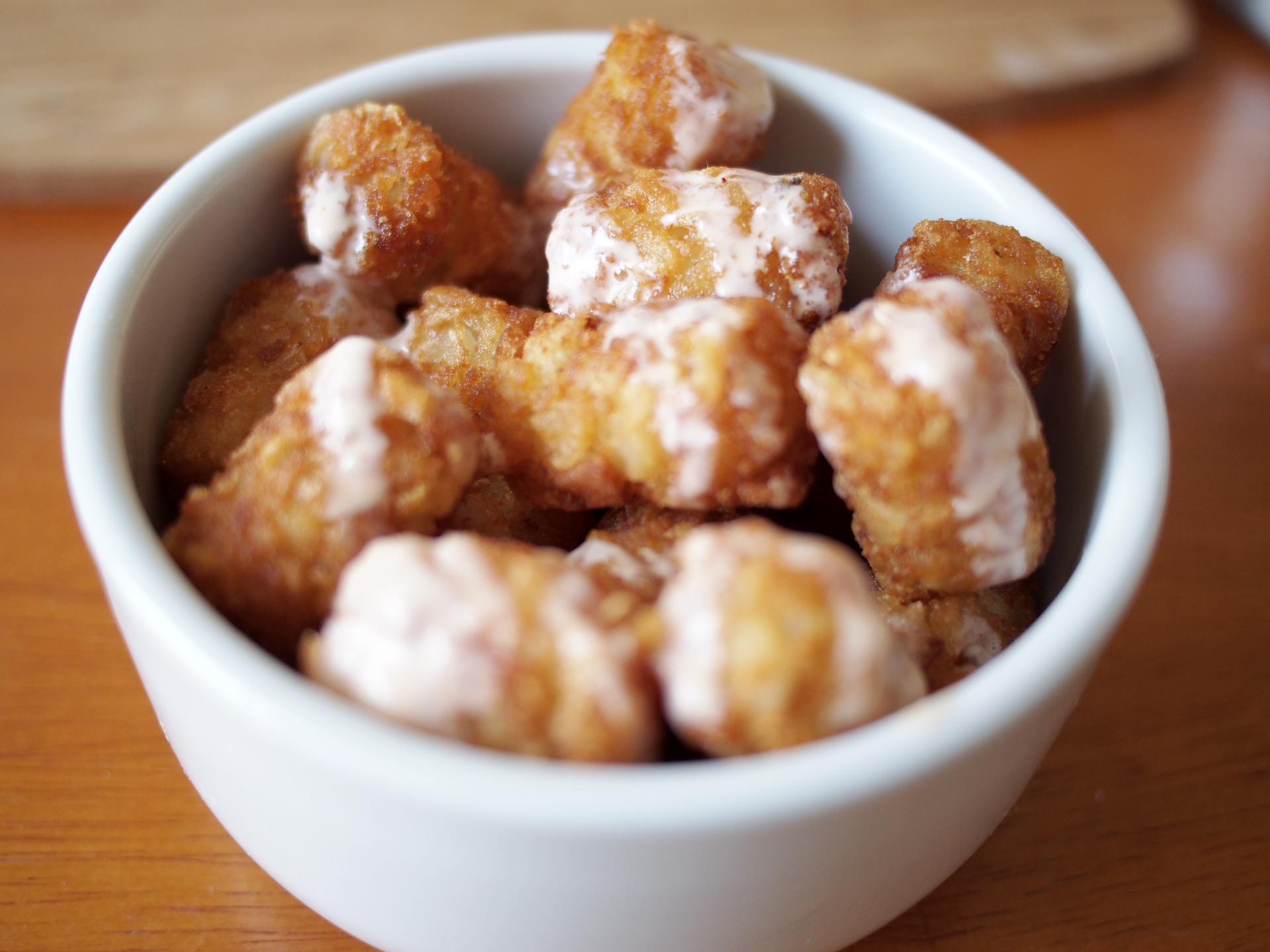 Tater tots seasoned with Shin Ramyun seasoning powder, topped with sriracha creme fraiche
Red Lentil Dal with Peppers, Coconut Milk, and Dende Oil
Roast Chili Jam Macaroni and Cheese
Mabo Double Doufu (Mabo Doufu over crispy fried tofu)
Spring pea and asparagus risotto with spring garlic, leek, and shallots served with honey-miso braised short rib with reduction sauce
Braised lamb shank in red wine/coconut milk reduction sauce with carrots, onions, cremini mushrooms, and garlic.

Garlic stir-fried shrimp over mixed greens with Sriracha-lime dressing.
Sriracha/sweet soy fried tofu and avocado musubi, Roast pork belly and avocado musubi (with Sriracha Creme Sauce)
Amaretto peach crisp with vanilla ice cream
Beef Boat Stew with chuck and tendon meatball
Rice with onions, sweet peppers, garlic, lap cheong, Seoul Sausage pork and galbi sausages, dried shrimp, and shiitake mushrooms. Topped with fried shallots and fried garlic, served with sriracha creme sauce.
Gruyere, Cheddar, and Pepper Jack Grilled Cheese Sandwich with Thai Roast Chili Jam
Chicken Satay Musubi with Curry Peanut Sauce
Spaghetti with uni butter, garlic, pepper, and parmigiano-reggiano and sliced pan-seared/butter-basted rib eye!
Chicken braised in burgundy wine, stock, dark soy sauce, and coconut milk with onions, garlic, and mushrooms served with fresh pasta
Egg noodles in red curry sauce with lime
Risotto with soy sauce, shiitake mushrooms, lap cheong sausage, scallions, and chili crisp sauce
Scallion pancake stuffed with cheddar and potato and sriracha crema Salvadorena
Sous vide rib eye steak with Thai jaew sauce